The lab is equipped with state of the art field robotic systems, sensors for outdoor perception and mapping, and mechatronic and embedded systems for the development of applied research activities and prototypes.
Husky - Unmanned Ground Vehicle
Description of the device: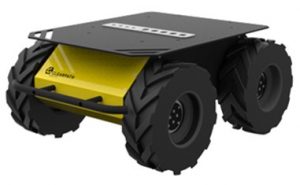 Husky is a medium sized robotic development platform. It has a large payload capacity and an high-torque drive-train.
Technical specifications:
| | |
| --- | --- |
| Dimensions (External) | 990 x 670 x 390 mm |
| Dimensions (Internal) | 296 x 411 x 155 mm |
| Own Weight | 50 kg |
| Max Payload | 75 kg |
| Drivers and APIs | ROS, C++ Library, MathWorks |
Applications in the laboratory:
It is used as a multipurpose platform for the development of field robotic applications as well as applied research applications, e.g. perception, proximal sensing, picking, manipulation and so on.
Jetson TX2 Developer Kits
Advanced developer kits for the development of hardware and software for the Jetson TX2 AI supercomputer on a module.
Tech specifications:
JETSON TX2 MODULE
NVIDIA Pascal™ Architecture GPU
2 Denver 64-bit CPUs + Quad-Core A57 Complex
8GB L128 bit DDR4 Memory
32GB eMMC 5.1 Flash Storage
Connectivity to 802.11ac Wi-Fi and Bluetooth-Enabled Devices
10/100/1000BASE-T Ethernet